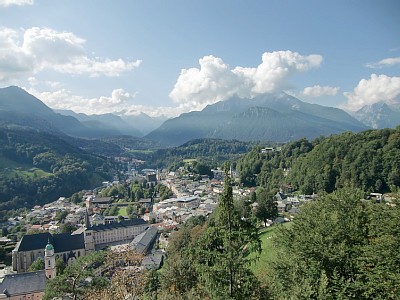 The "A

partment Berchtesgaden" is located near the center of Berchtesgaden.



38m ² on a feel-good oasis has emerged in which up to 2-3 people can leave behind everyday life. After a long day with many impressions from the surroundings of the Alpine National Park you can in the living room on the comfortable seating area or on the sunny balcony with a novel or a glass relax wine, you might enjoy but even a good movie (satellite TV and CD player small selection of books, music and great games available). Also new is the cozy fireplace for romantic hours on cooler days. If you love to cook, this is in our fully equipped kitchen a snap.
The "Apartment Berchtesgaden" is located in sunny southern exposure on the outskirts of Berchtesgaden and offers its guests a magnificent view of the Berchtesgaden mountains and Watzman. The optimum position, in a small complex next to the castle museum Adelsheim, is the ideal mix of nocturnal rest and close to the sights. You can reach Königssee, Obersalzber, Eagle, Ross field or Ramsau Hintersee and in a few minutes. The Mozart city of Salzburg and the alpine town of Bad Reichenhall is a mere 20 minutes. by car or bus. Incidentally, the bus travel within the RVO is free for our guests.